I'm having so much fun planning the sweet
Pink PreK Party
for the little pumpkin!
This one is just a small family party right before Grace starts preschool at the end of August. She's already put in a few requests, like this sweet treat we enjoyed yesterday:
As yummy as they are pretty!
and........
It must be my lucky day!
The fabulous
Kate
of
Kate Landers Events
included my
Dr. Seuss party
in her
Thursday Treasures
series debut! I feel so incredibly honored to have been mentioned in the company of such amazing and talented women! Check it out
HERE
. You can also see the feature on
Stylish Children's Parties
HERE
.
and........
(told you it was my lucky day :)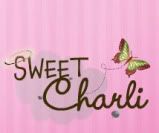 I received an email from Kami of Sweet Charli telling me that Grace's Room was one of 6 finalists in her Children's Room Contest. Woo hoo! There are some fun prizes up for grab (see HERE) and voting begins tomorrow so share the love, will you?

Back tomorrow with more pretties... Still on Cloud 9!
{*does happy dance*}