Grace's
Vintage
Strawberry Shortcake Party
won
Sweet Charli's contest!!

See it
HERE
.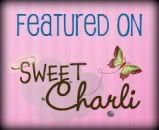 And read about it
HERE
if you missed it the first time.
Thank you to all who voted!
I've got my Dr. Seuss hat on and I'm having a fun time planning Hudson's 1st Birthday in less than 2 months. WHAT???!!! When did my baby get so big?!
P.S. If you see something cute - Dr. Seuss themed, let me know!! :)